This month, our first diary of a Nankang driver, Elena. Last time, I said that over the next few months this blog would follow a variety of Nankang users in town, in the country, on big and small cars, private and business, telling you about their real-life experience of driving on Nankang tyres and their practical advice to fellow drivers.
Also, a guide to fitting Nankang all-season tyres, after a grateful look back at John F. Sipes, an American slaughterhouse worker. What has that to do with tyres? Read on and all shall be revealed.
THE USER REPORT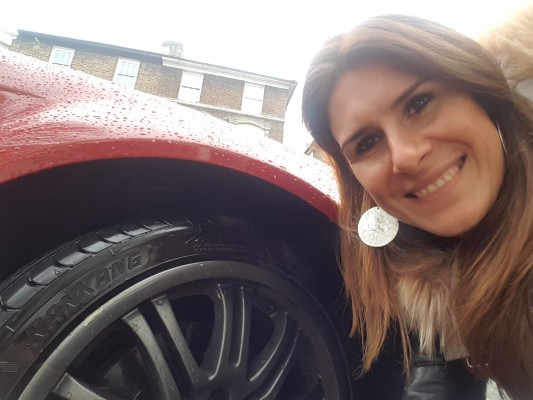 First, a selfie of a smiling Elena after extensively testing her faithful Nankang tyres. "Decided to get Nankang as heard so many positive reviews about it." she says, "Fab jobs @Wheeltraders. As a female approaching a garage I was a bit nervous but they made me feel comfortable and changed all 4 tyres in no time. Thumbs up!"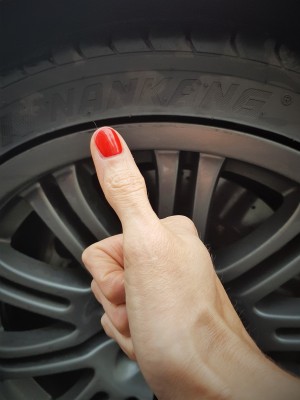 "Really impressed by my new tyres. The car feels totally different. With my previous tyres as soon as it was wet the car felt really all over the place. Cannot recommend them enough…..Not sure why I waited so long."
Thanks Elena. Next month, Marjory, the gardener, and her first experience of all-season Nankang tyres on her van.
ALL SEASON TYRES
In the 1920s, John F. Sipe, slaughterhouse worker, slipped for the hundredth time on the wet floor and decided to do something about it. With a sharp knife, he cut a series of thin grooves in the rubber of his shoes and found that the grooves provided much better grip. The rest is history. Today 'siping' is the essential process of cutting thin slits across a tyre's rubber surface to improve traction in wet or icy conditions.
Nankang's latest all-season tyre, the AW-6, has been designed with wide winter type tread block sipes to give peace of mind in the cold season. At the same time, the AW-6 has the shoulder typical of summer tyres to ensure dry weather performance and cornering stability – so the best of both worlds. And, with Nankang tyres you don't only get exceptional grip and durability without breaking the bank: you also get Nankang Road Hazard Lifetime Warranty: if your Nankang tyre cannot be repaired, it will be replaced under warranty.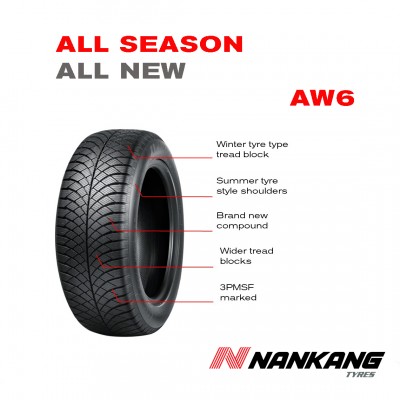 Why Nankang all-season tyres? Simple:
· The advanced design gives you safe and good performance all the year round, with comfort, durability and a quiet ride. Furthermore, Nankang's all-season tyres are special not only in design, but also in the makeup of the rubber, which is softer and more elastic. This does not harden like summer tyres and gives you much more grip and stopping power in the snow.
· You do not have to change your tyres twice a year, often keeping a separate set of rims or having to pay to get them stored and then refitted.
· The all-season Nankang tyres are marked with the official Three Peak Mountain Snow Flake symbol, guaranteeing that they meet the authorities' conditions of rigorous testing and are suitable for operation in difficult weather conditions.
When should you get the tyres?
· Now is a good time, especially if your tyres are worn (less than 1.6mm across the central three-quarters of the tyre or you see the tyre indicators built into the grooves) or have cuts and bulges, especially along the shoulder.
· Now is a good time because, frankly, the weather is up for big surprises these days and anything can happen from one day to the next.
Fit the right Nankang tyre for your car: your nearest Nankang dealer will give you expert advice on tyre choice and specifications, tailored to your requirements. And don't forget: only Nankang tyres come with the Nankang Road Hazard Lifetime Warranty.